Easy as 1-2-3.
 Call us to get an estimate and sign up.

We install your lights and maintain them through the holiday season.

We takedown your lights and store them for next year.
bioLights is not your run of the mill lights installer. We are a professional services company providing services or residential homes. Contact us today to discuss options and select the display of your dreams.
Our team will discuss your interests and vision for your property. We can make suggestions specific to your property. The design can be as simple or elaborate as you want. Our designs can include roofline lights, wreaths, tree trunk wraps, tree canopy wraps, and shrub wraps and other elements as requested.
We purchase commercial grade materials from a local vendor. None of the inexpensive big-box store materials.  Our wreaths are denser and our lights are bigger and brighter. All materials installed are  custom fitted to your property. We use LED products to save you energy expense and reduce impact on the environment.
Our trained crew professionally installs decor according to your design. We take care to tuck and secure cords and lights using high quality, non-permanent clips to provide a clean look. No need to climb ladders or figure out where to run extension cords. Our team will safely install your lights, leaving you with a fully operating display after installation.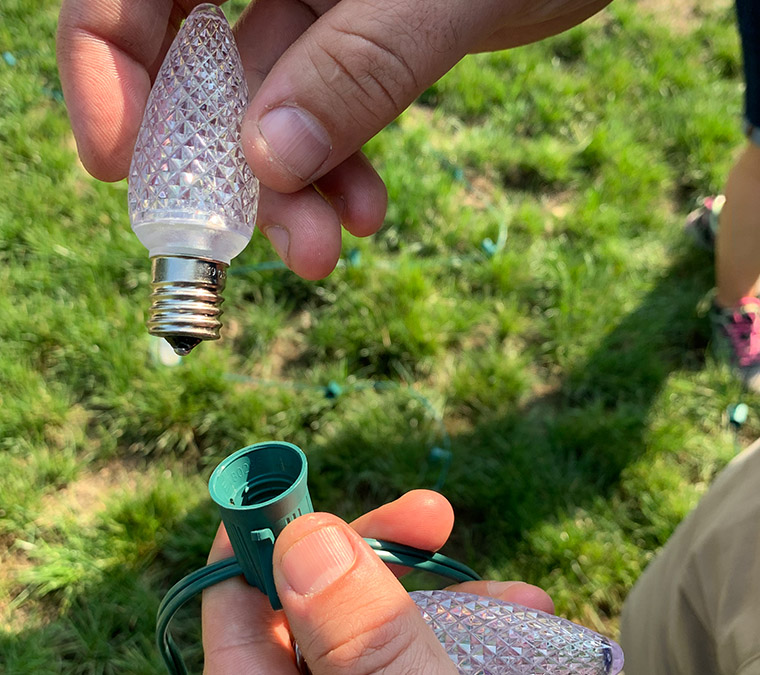 We fully back our installations. If something isn't right, we will fix it. Should you notice something not working, please contact us so we can troubleshoot the problem and get your lights working.
After the holidays our trained crew will carefully and safely remove the lights from your property. All lights will be tagged and packaged appropriately for storage.
We reduce the hassle of storing the decor and will securely store them for FREE in our facility until the holiday season, eliminating hassle of storage for you. Our storage is fully insured.

"I've never seen my kids more excited for the Holidays than when bioLights finished our house! They did an amazing job installing the lights and they fit our house perfectly. They even set up the timers for us! The crew was professional, clean, and attentive to detail. I'll never hang my own lights again…Thanks bioLights!" Tony C.